Prime Minister's Reception
Hosted by the National Librarian, Penny Carnaby. Haydn Rawstron, Trustee of the John Robert Godley Memorial Trust presented to the Prime Minister, the Rt. Hon. Helen Clark, a copy of 'Godley Gifts' which Ms. Clark in turn presented to the National Librarian to be held in the Turnbull Collection.
Haydn Rawstron addressed the Prime Minister, National Librarian, Government Officials and invited guests, as follows:
"Had Christchurch become New Zealand's capital in 1856, when it became New Zealand's first city, New Zealanders might today likely have adopted Canterbury's and Christchurch's founder, John Robert Godley, as its George Washington or Thomas Jefferson since Godley, perhaps alone among New Zealand's early founders possessed comparable stature.
'A whale in a duck-pond' one early commentator described him, the 'whale' also being a reference to his formidable intellect. Britain's great 19th century Prime Minister, William Gladstone, went further, describing Godley as a 'king among men', thus likening him to Agamemnon.
Godley died from tuberculosis, aged 47, to be mourned by many great men who realised that they had lost a shining light from their midst. In New Zealand, no-one mourned his death more than James Edward FitzGerald who, as founder and editor of The Press, devoted one whole issue to the memory of his great friend, Canterbury's founder.
Not counting the financial cost of his action, FitzGerald rushed headlong into publishing Godley's writings and speeches dedicating them to Godley's son, Arthur: 'I present you with this Memorial of your Father's work, not only in testimony of the love I bore him and the reverence in which I hold his memory, but in the hope that it may stimulate you to emulate a career of usefulness which was curtailed only by bodily infirmity. I regret that these few papers, – clear in thought, just in judgement, and resolute in action, as they declare the writer to have been, – should still depict so feebly that greatness of character which won the admiration and trust of his intimate friends, and which, had he been granted health and long life, we doubt not the world would one day have recognised.'
A 2007 Limited Edition publication – Godley Gifts – brings together John Robert Godley, James Edward FitzGerald and Arthur Godley, in a substantial work of art. 'Godley Gifts' is a three-volume set in a beautifully crafted presentation box. It is published in a numbered Limited Edition of only 100 copies (sets), each hand-dedicated by The Rt. Hon. Christopher Godley, 4th Baron Kilbracken.
The foreword to Godley Gifts is written by our Prime Minister, the Rt. Hon. Helen Clark who has also generously hand-signed her foreword in each of the hundred sets. In May 2008, Godley Gifts won three gold medals at the national 'Pride in Print' publishing awards in Auckland.
The three smallish volumes, in each set of Godley Gifts are hand-finished to the highest standards of craftsmanship. The star of the set is an exact replica copy of New Zealand's earliest known illustrated child's book, about a boat called Seadrift.
Seadrift is the second volume in Godley Gifts. Volume one of the set is a collection of essays commissioned for this publication from renowned writer and actor, David McPhail, and volume three is a collection of early Canterbury-related watercolours, which – like Seadrift – have never previously been published. No further replica copies of Seadrift – over and above the Limited Edition's 100 purchaseable copies (and 10 'printer's' copies) will ever be produced.
The writing and illustrating of Seadrift took seven years to complete and it was only finally ready to be sent to the boy for whom it was written and illustrated, in time for his Christmas box of 1858. The boy recipient of Seadrift was Arthur Godley. The recipient of the early Canterbury watercolours (the third volume of Godley Gifts) was his father, John Robert, and the author-cum-watercolourist of both gifts was James Edward FitzGerald.
There is a wonderful story to be told of how the priceless, unpublished manuscript of Seadrift came to light, in England, in the year 2000. There is also a wonderful story to be told of how FitzGerald's gift of watercolours of early Canterbury was rediscovered in 2006, in the archives of Canterbury Museum. Moreover there is a separate story of how Godley Gifts was fashioned, but these are stories too long to tell on this occasion.
I would prefer instead to conclude with brief biographical notes on James Edward FitzGerald and Arthur Godley. FitzGerald was one of New Zealand's most brilliantly-gifted, first-generation, European settlers: writer, journalist, newspaper proprieter and editor, orator, guitarist, singer, raconteur par excellence, watercolourist, politician and statesman.
Arthur Godley, when aged 25, became Prime Minister William Gladstone's private secretary, and aged 35, permanent undersecretary of state for India, effectively running the affairs of the sub-continent from his office in London, for a record-breaking 26 years.
Arthur Godley and James Edward FitzGerald stood tall at opposite ends of the world, giants of their time. They are bound together in history, eternally, by a little, 64-page children's book called 'Seadrift'."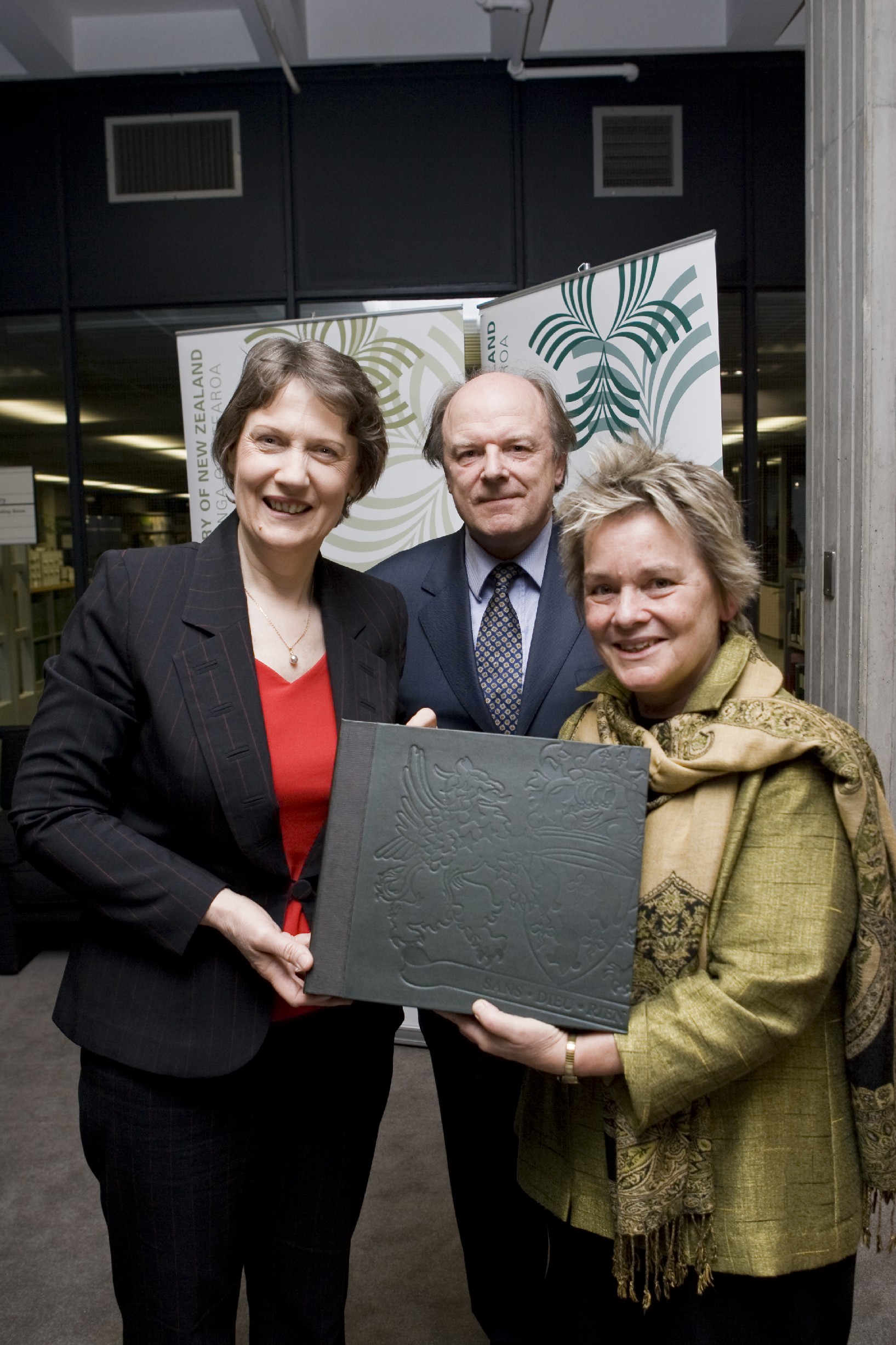 Top photo: Haydn Rawstron, Judith Tizard MP, The Rt. Hon. The Prime Minister, Helen Clark, and Penny Carnaby, National Library chief executive.
Above: The Rt. Hon. The Prime Minister, Helen Clark, Haydn Rawstron, Penny Carnaby, National Library chief executive.
Below: the space in which the reception was held, in the National 'Turnbull' Library