Letter to the Editor of The Press, Christchurch,
7 March 2009:
Sir,
Today the John Robert Godley Memorial Trust, named after Canterbury's founder and of which I am patron, makes available on the web the complete award-winning heritage book publication, Godley Gifts. This is primarily a gift from the Trust to the people of New Zealand, though in reality the web has no boundaries.
The inspiration behind publishing the tri-partite Godley Gifts, is the publication's middle volume, 'Seadrift', New Zealand's earliest illustrated children's book. It was written and painted by James Edward FitzGerald, who founded The Press 148 years ago and who first held the office which later evolved into that of Prime Minister of New Zealand.
The exquisite manuscript of Seadrift, with its 32 watercolours, painted to illustrate the adventure story of a boat, was gifted by FitzGerald to J R Godley's young son, Arthur, later 1st Lord Kilbracken and my great-grandfather. A century and a half later, our family gifted the priceless Seadrift manuscript to the Christchurch-based John Robert Godley Memorial Trust, to mark Canterbury's sesqui-centennary in 2000.
To complete this circle of gifting, the Trust – aided and abetted by superb New Zealand craftsmanship – is now making a splendid reproduction of 'Seadrift' freely available to all.
It is with profound pleasure that I invite New Zealanders of all ages to visit www.godleygifts.co.nz. Please click on 'Seadrift' and view, for the first time, a beautiful work of early New Zealand literature, as it begins its journey in cyberspace.
The Rt Hon Christopher Godley
Lord Kilbracken of Killegar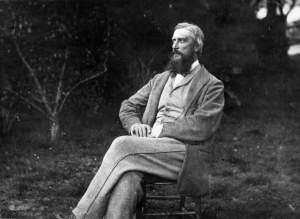 Photo: James Edward FitzGerald