On 15 September, at Buckingham Palace in London, the gift of the prize-winning New Zealand bookset, Godley Gifts to Her Majesty The Queen, was accepted, on behalf of The Queen, by the Palace's Director of Records, Mr David Ryan.
The bookset will be placed in perpetuity in the Royal Library of Windsor Castle, once Her Majesty has read the books.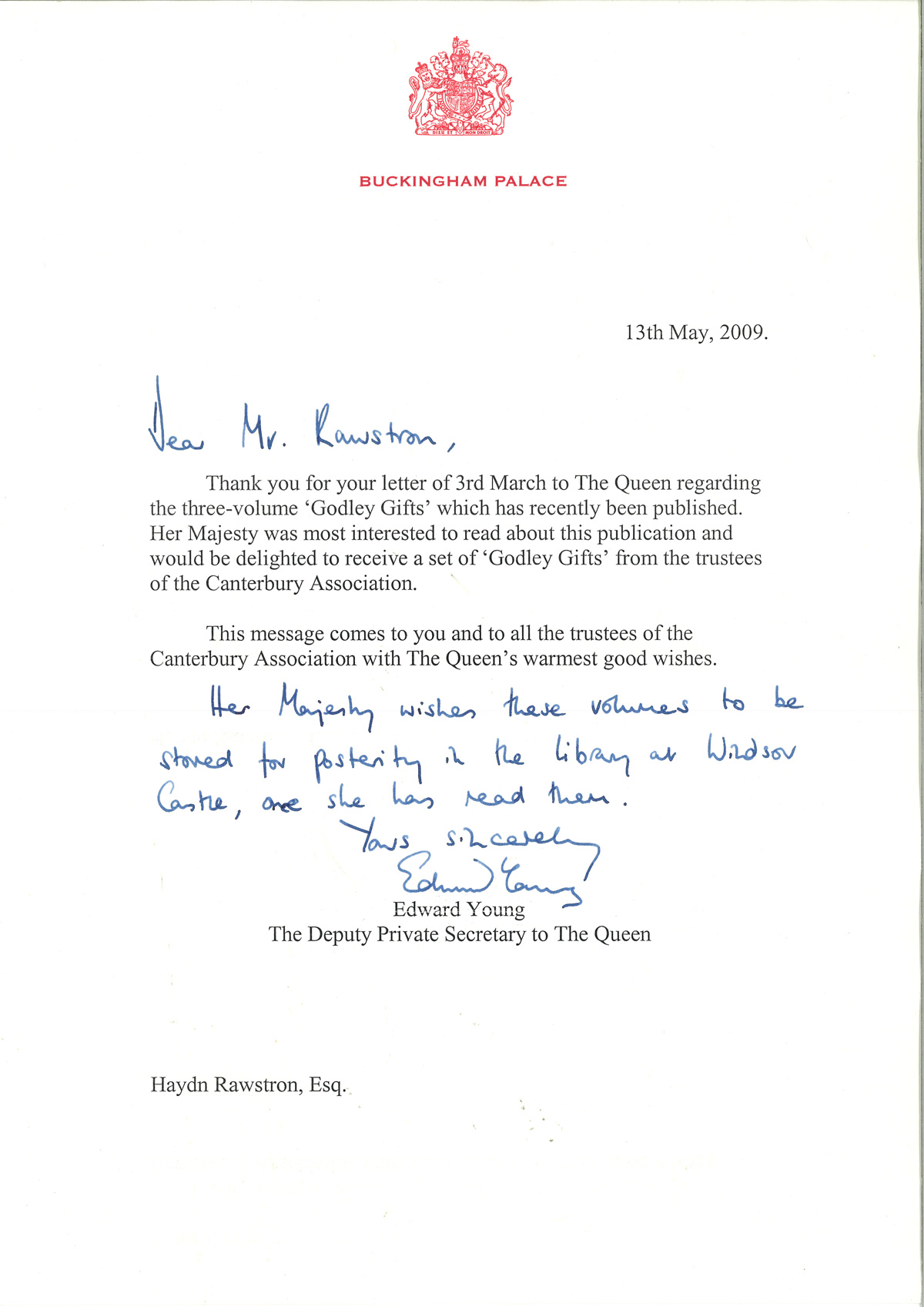 Mr Ryan said that it was 'rare indeed' for a book to be accepted into the Royal Library. Although authors and publishers regularly send books to The Queen for such approval, Mr Ryan observed that in the 5 years he has been employed as Director of Records, The Queen has accepted only one other book for the Royal Library of rare documents at Windsor Castle, a Canadian book.
The Royal Library is not open to the public but only to research scholars. It is within one of the principal buildings at the Castle.
Mr Ryan observed that although his prior visit to the Godley Gift's website had given him a fine impression of the quality of the bookset, the site still had not prepared him for the true beauty of the set itself. He praised the attention to detail and the masterly craftsmanship. It was then pointed out to Mr Ryan that the bookbinder of Godley Gifts, Cantabrian Mat Hinman, had apprenticed in London with the Royal printers, Sangorski and Sutcliffe.
New Zealand's High Commissioner in London, Mr Derek Leask, said the presentation to the Royal Library was a tribute to all those who worked to produce the bookset. "The Royal Collection contains some 125,000 rare books and manuscripts. It is a fitting home for a prized piece of New Zealand literary history and I have no doubt it will be treasured by the Library."
The Queen, born in 1926, was gifted number 26 from the limited, hand-dedicated and hand-numbered edition of 100 sets.
Lord Kilbracken with David Ryan, Director of Records, Buckingham Palace. The presentation took place 15 September 2009. Godley Gifts will be housed in perpetuity in the Royal Library at Windsor Castle