A copy of the book set, 'Godley Gifts' has been gifted to Christ's College and is housed in the Hare Memorial Library in the 'Big School' building, which forms part of the school library. 'Big School' represents another of the seemingly endless talents of James Edward FitzGerald, namely, that of architect. Not only was FitzGerald the architect of 'Big School' (the oldest educational building still in use, in New Zealand), but during his time as first Superintendent of Canterbury, the school took the name of Christ's College, after FitzGerald's Cambridge University alma mater.
The following article appeared in the school's Quadrangle Magazine on 7th December 2017:
Godley and FitzGerald are names so fundamental to the founding of the Canterbury Association's "college", which became Christ's College Canterbury 1850, that one could perhaps be forgiven for asking why they are not commemorated in names of buildings at the school. A possible counter-argument in the case of FitzGerald is that the school is knowingly named after his Cambridge University alma mater. Moreover, Big School (now the library) stands as a memorial to him, FitzGerald having designed it. But in Canterbury-founder John Robert Godley's case, there is no such counter-argument. Yet if the school were to acknowledge a founding father, spiritually or otherwise, it would have to be Godley.
A 2007 Limited Edition publication – Godley Gifts – brings together these two collegian founder names, spectacularly. It consists of one hundred copies only, each comprising three smallish volumes, hand-finished to the highest standards of craftsmanship. The star performer in this trio is the middle book of the set, an exact replica of New Zealand's first illustrated children's book about a boat called Seadrift.
Volume one of Godley Gifts is a collection of essays commissioned for this publication from renowned writer and actor, David McPhail; volume two is the replica of Seadrift; and volume three is a collection of early Canterbury-related watercolours, most of which – like Seadrift – have never previously been published. No further replica copies of Seadrift – over and above the 100 copies within this Limited Edition – will ever be produced.
The writing and illustrating of Seadrift took seven years to complete and it was only finally ready to be sent to the boy for whom it was written, in time for his Christmas box of 1858. The boy recipient of Seadrift was Arthur Godley. The recipient of the watercolours (the third volume of Godley Gifts) was his father, John Robert, and the author-cum-watercolourist of both Seadrift and the watercolour collection was James Edward FitzGerald.
To read the complete article, as published in Quadrangle, contact:
Christ's College Old Boys Association
Lizzie Dyer, Secretary
CCOBA
Phone: +64-3-379 6738
Fax: +64-3-379 6717
www.ccoba.com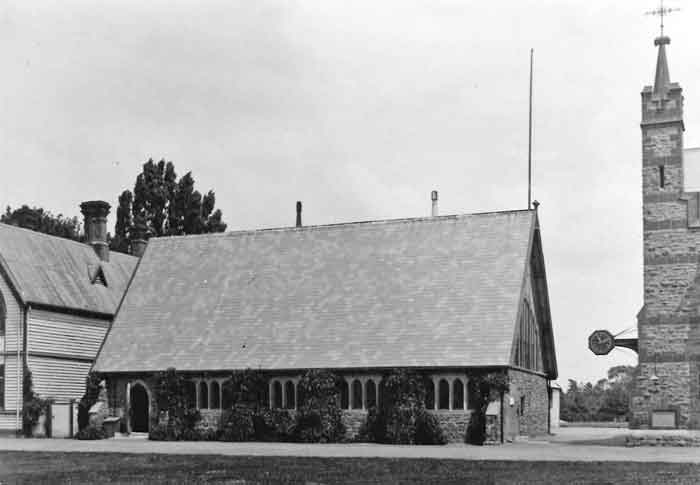 Photos of the 'Old School' building, designed by James Edward FitzGerald